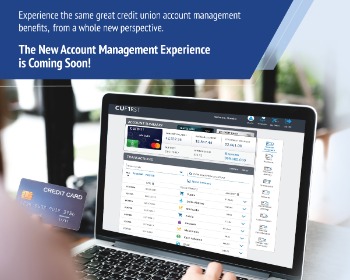 It's here! A brand-new credit card management experience. You can still do basic things like view your transactions, make payments, and print e-statements. Additionally, the new site features a mobile-responsive design, meaning it works better on your phone, and you can turn your card off if you lose it (and back on again when you find it). We hope you enjoy the new system. Please see below for some important notices regarding the new system.
Important Notice
SCCU appreciates your patience during the transition to this system. A few things to note:
When you first log in to the new system, please click "Enroll" and re-enroll your card.
Your past statements and transaction information will be saved, but you will have to create a new user ID and password within the new system. We apologize for any inconvenience this causes.
Use Chrome to fully experience the new system.
Some Internet browsers do not yet fully support the new system, so some functions may be limited. Please use Chrome for full functionality. More browser options will become available at a later date. 
Download Chrome.