Whether you're a credit card pro or building your credit score up for the first time, SCCU has options for you. In addition to our basic credit cards, we also offer the Children's Hospital Card, which affords you convenient credit access while also giving back to the community. Check out our options:
Credit Cards
SCCU offers a few simple, no-nonsense credit cards to help you meet your credit needs.
Card
APR
Visa Gold
12.00% APR
Visa Classic

12.50% APR

Visa Children's Hospital Card

see below - supports Children's Hospital at Erlanger

12.00% APR

$5,000 minimum line
All cards feature:
No annual fee

No cash advance or balance transfer fee
Free online access to view balance, statements, and make payments
Children's Hospital Card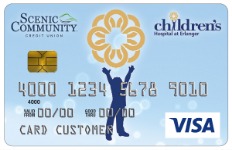 SCCU cares about kids, and we know you do too. As a proud sponsor of
Credit Unions for Kids
, we are excited to offer our members a unique way to help raise funds for Children's Hospital at Erlanger.  
SCCU's Children's Hospital Visa Credit Card is a no-annual-fee card that gives back a percentage of interest earned to the Children's Hospital at Erlanger. In the past, proceeds from the card have been used to help build the state-of-the-art
Kennedy Outpatient Center
, and will now go towards other hospital improvements. It's a win-win for SCCU members and for kids in our community. Ask us how you can apply today!
For more information, call (423) 875-6955.
Credit Card Statements & Payments
Easily view your credit card statements and make payments online anytime. Click below to login or sign up.
Card Alerts
Know what's going on with your credit card!  Signing up for Card Alerts sends you an email or text notification whenever your card is used.  You can set up custom alerts, too.  Want to know when your card is used for a purchase over $100?  Want a record of your online purchases?  Sign up below to set up all that and more.