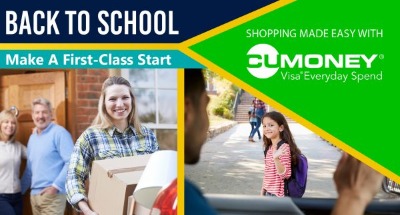 SCCU's Everyday Spend Card functions just like a gift card, EXCEPT that it is reloadable. It is not tied to any of your SCCU accounts, combining safety, flexibility, and an inexpensive payment method all into one card. It is also easy to manage: once you've received your card from the credit union, you can
reload it yourself online.
Fees
$5.00 initial purchase fee
$1.75 monthly service fee
Initial load is free; each load thereafter deducts $0.50 from card balance
All transaction fees are listed on the back of the card carrier
Activating My Everyday Spend Card
After purchase at an SCCU branch, cards are mailed from the card vendor to member with the member's name embossed on the card within 7-10 days.
Member activates card via VRU (Voice Response Unit) 1-877-850-9650
At the time of activation, the member will be asked to enter the last 4 digits of the phone number used at the time of purchase. They will be instructed to choose a 4 digit PIN.
Loading My Everyday Spend Card
Unlimited amount of loads
Minimum load is $10; maximum value is $5,000
How to Load Your Everyday Spend Card:

Member can load cards at www.cumoney.com (3-5 day hold applies). 
Member can load cards via the Visa ReadyLink reload network.
SCCU can load cards up to 4 times per month ($5 initial purchase fee plus the $0.50 on SCCU loads over 4 per month). SCCU loads could take up to 24 hours to update card balance (longer if loaded on a Saturday).
Other Everyday Spend Card Info
Cards are automatically reissued if active and have a balance
30 month expiration date is embossed at the time SCCU orders the card for member
Can be used for Visa signature purchases, Interlink, and Plus PIN access